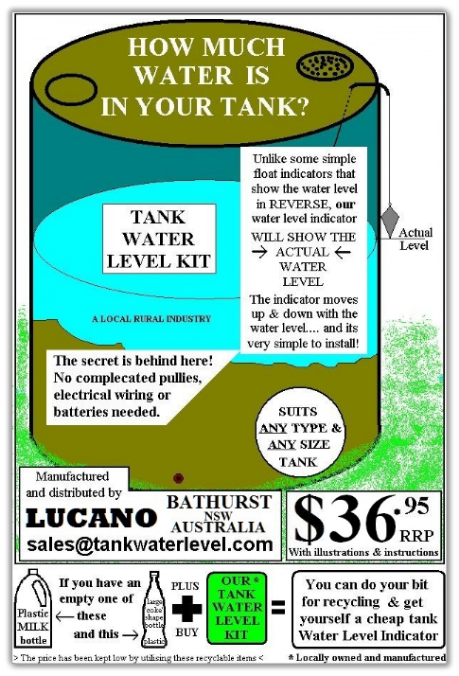 No more "tapping" the tank or climbing a ladder to check the water level. You'll be able to tell at a glance.... from a distance... with our Tank Water Level Indicator Kit installed!
Purchase
IN AUSTRALIA

Price....AU$36.95rrp
(Internet only price.. AU$31.95)

You can buy from the Stores listed below
(at full price) or we will post to
anywhere in Australia for $8.65 for one Kit.
Plus $3.40each for each additional Kit

For online purchase in Australia

Click the "BUY NOW" button

at bottom of this page

IN TOOWOOMBA (Qld)

Computer Abulance
Service
56 Ferguson Road,
Westbrook Qld. 4350
Phone (07) 4639 1578
(Yes, they sell & service computers too!)
sales@computerambulance.com.au
www.computerambulance.com.au

SYDNEY AREA
Produce Direct & Pet Centre
Orchard Hills, NSW 2748

Email: sales@producedirect.net.au

They also sell water tanks, pumps, accessories & stockfeed

For Australian
customers only
Click the
"BUY NOW"
button opposite--->
for a quick online transaction.
>
Your Order will be posted within two business days of receiving payment
<
With
'BUY NOW'
you can pay with you credit/debit card or PayPal account.
After you click the button you will be taken to Paypal website to complete your order.
We do not take "over the phone" orders and we are not permitted by Council to sell from
our home as we are in a residential area.
Even if you live in Bathurst we have to post it to you!

Please be sure to tell us your tank height if it is OVER 4 metres (13ft) tall so we can supply extra line at no extra cost.

The transaction is entirely handled by Paypal and none of your card/account details are disclosed to us.
Please be sure that you have the correct shipping address on your account as we have had occassions where people have moved house and forgot to change their address on their Paypal account!